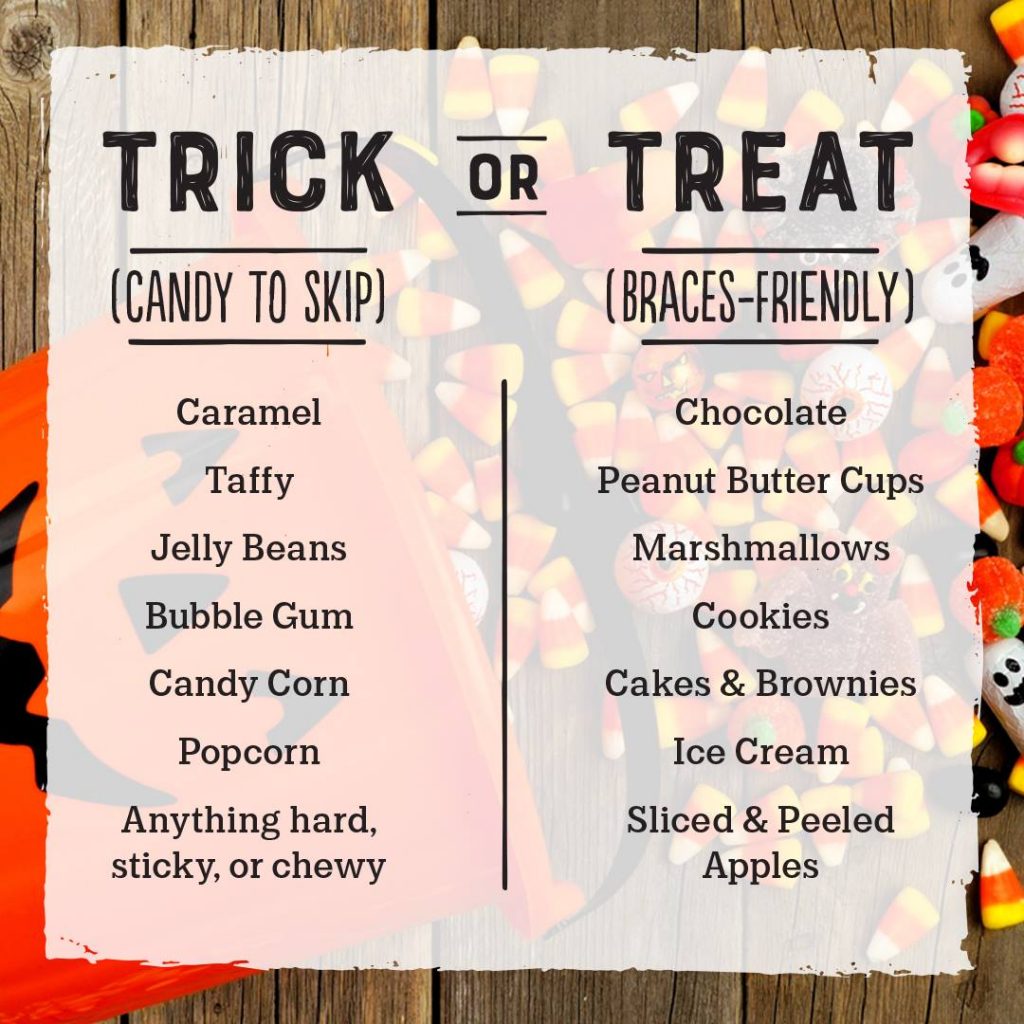 Of course you are aware that Halloween is just around the corner. For children, this means trick-or-treating is just around the corner as well. If you're a follower of our blog, you also know October is Orthodontic Health Month.
In terms of braces, this photo should help serve as a reminder of the types of foods that are OK to eat when you have braces on, as well as those we should probably avoid.
Regardless of if you or your child are undergoing orthodontic treatment with braces or invisalign, it is important to take care of your teeth and be healthy and safe this Halloween season. The American Dental Association recently published a great article on ways to keep your teeth, mouth, and body healthy this time of year.
The ADA recommends brushing your teeth at least twice a day for two minutes each time you brush. When you are undergoing orthodontic treatment, brushing more frequently is a great way to help combat any sugar bugs from sticking to your orthodontic appliances (braces or invisalign).
Many of our patients ask what is the best type of toothbrush to use. We will have a post coming soon about the different types of toothbrushes, but as a general rule, an electric toothbrush is going to be more effective than a manual toothbrush. Additionally, most electric toothbrushes have a 2 minute timer that makes it easy to know how long you have brushed for and if you have brushed long enough.
Be sure to check back for our post on toothbrushes, and have a safe and happy Halloween!
If you have any additional questions about Mack and Hansen Orthodontics or want to discover how Dr. Spencer Mack and Dr. Andrew Hansen can help you gain straighter teeth and a healthier smile with braces or Invisalign please contact us today! You can also visit www.etxortho.com to learn more about our orthodontists and request a complimentary consult, or you can call us at 903-212-7737. We're conveniently located in Longview, TX and are just a quick drive from Marshall, Carthage, Henderson, Kilgore, and Gilmer.