How do i get rid of those pesky white spots on my teeth?
Icon Resin Infiltration is the 3rd of our 3 Smile Enhancement Services that doesn't require Braces or Invisalign. Just like Laser Gum Contouring and GLO Teeth Whitening, you don't have to be an orthodontic patient of ours to have this treatment done here at Mack and Hansen Orthodontics. Anyone can see us for this quick, non-invasive treatment.
Icon Resin Infiltration is a solution for problems like fluorosis, yellow and white spots because…
The treatment is much less invasive and less expensive than the alternatives of crowns or veneers.
It can be done sooner than other cosmetic options like veneers that you have to wait until growth is complete.
The result is more natural than whitening or filling.
What Are White Spots?
White and yellow spots on teeth can be due to a number of things including poor oral hygiene during orthodontic treatment, but these spots can also be natural defects in the enamel, dental trauma, fluorosis, or decay. Also known as enamel bruising, white spot lesions, or hypo spots, these white spots are more porous than the rest of the tooth. The ICON resin infiltration treatment fills in these porous areas, which not only improves their appearance, but also protects the tooth from future decay.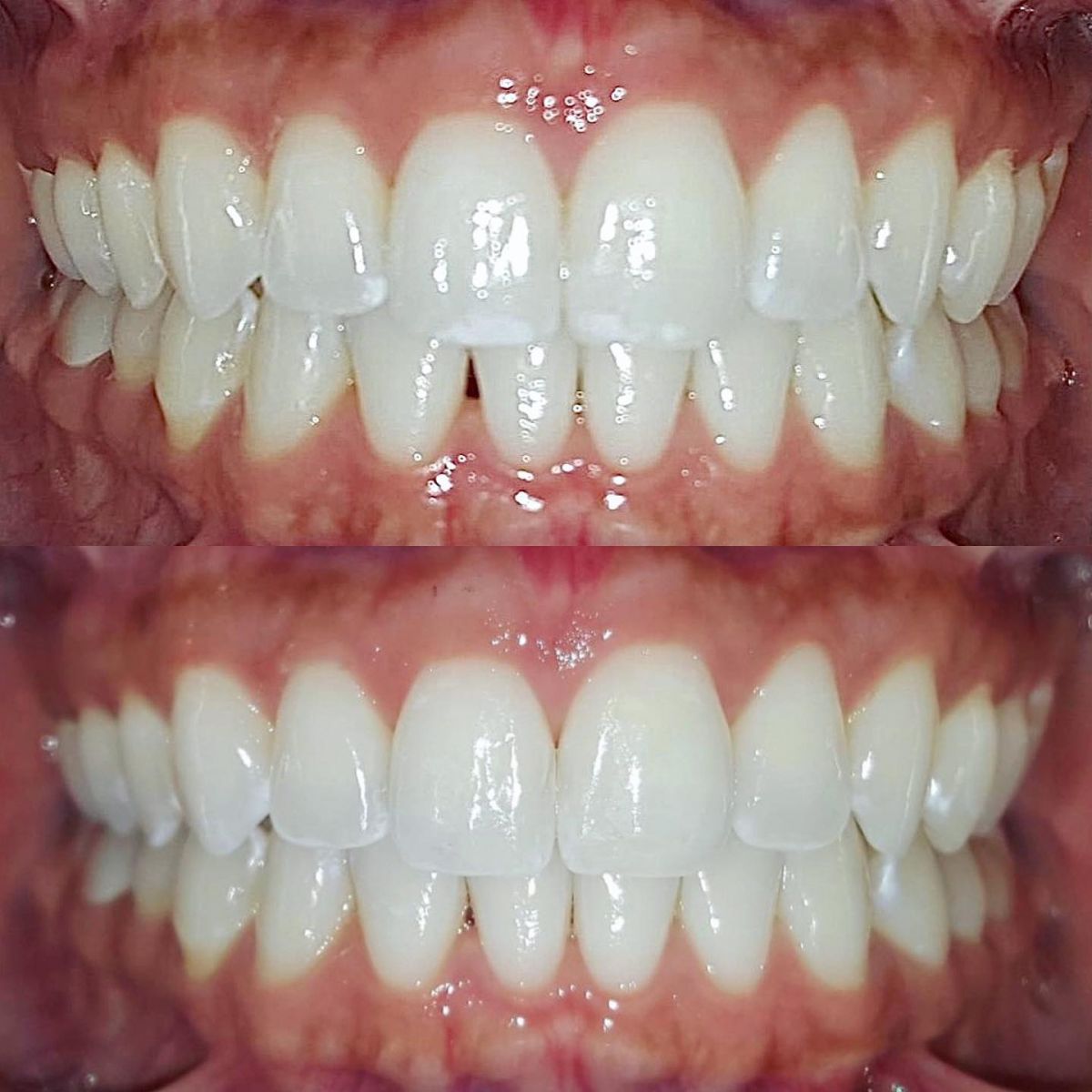 **Actual MHO ICON Patient**
How ICON Resin Infiltration Works
The ICON treatment takes only a single visit to our orthodontic office in Longview, TX. It's minimally invasive, and there's no drilling or local anesthetic injections involved. From start to finish, you can expect your visit to last about an hour, depending on how many teeth are being treated.
The process includes:
Cleaning plaque and tartar from the tooth (or teeth) being treated.
Using an etching solution and drying agent to dry out the white spot lesions and pores.
Applying the ICON resin infiltration solution to fill in the pores and improve the tooth's appearance, helping protect the tooth from any future decay.
Removing any excess resin, curing the tooth, and polishing.
ICON resin infiltration technique reinforces tooth enamel by entering and filling the pores without drilling or shots. This helps minimize the look of discoloration by refracting light just like normal teeth. It also stops deterioration by strengthening and hardening the enamel. The end result is a restored tooth that blends with surrounding teeth.
Frequently Asked Questions About ICON Treatment
Is ICON treatment permanent?
While the Icon treatment isn't permanent, it's considered a long-term treatment option. Results last at least two years, though many patients see more than six years of lasting results.
How does ICON work?
ICON works by etching the outermost layer of tooth enamel, then using a solution to penetrate and fill in the porous area that creates the white spot.
Is ICON bad for your teeth?
No, in fact, the opposite is true—ICON is good for your teeth! It leaves more tooth structure intact than the alternative method of drilling-and-filling. Because ICON was originally developed to stop tooth decay in its earliest stages, it also has the added benefit of guarding against cavities where it is applied.
Mack and Hansen Orthodontics provides ICON Resin Infiltration treatment in Longview, TX. If you're interested in finally removing white spots on teeth, contact us today to learn more about your options.