We recognize that all our patients are unique and deserve to receive orthodontic care that reflects their individual needs. From the minute a patient walks in our doors, we want them to feel at home. Our talented team is committed to working with you and your family to create a comfortable, stress-free, and rewarding orthodontic experience every time you stop in for a visit.
We are pleased to welcome you and your family, and we look forward to working with you.
---

Brittany
Office Manager & Financial Coordinator
I have a pretty sweet gig at MHO - You'll typically converse with me regarding anything financial or insurance related. I've considered myself an attorney a time or two, as I tackle any insurance discrepancies for our patients! I have many side jobs consisting of IT, administrative work, receptionist, and clinical assistant. Straight out of High School I started my Dental career, giving me over 10 years of experience with over 5 of that being Orthodontics.

As fate would have it, my personal friendship with Dr. Mack has led me to work with and for the very best Orthodontic Team! If the journey to a new smile isn't fun enough, this team truly exhibits the best attitudes and fosters an environment for a one of a kind experience that could never be replicated!

I'm a Pine Tree graduate, Class of 2007, where I cheered many Friday nights! I'm adulting these days with a set of boy girl twins (Maisyn Grace & Maddix) who've taught me lots of patience and a whole lot of love! I married an LHS & Baylor alumni, together we're raising our two kids to love this community just as much as we love it! My favorite hobbies include watching and playing with my twins, shopping, Cheering for my Texas Rangers(I'm like a really serious fan,) NFL and Collegiate football, and traveling(which has been paused since having kids.) My favorite past time is sleeping...I'd love to think I'm witty and funny because I love to have fun! I'm extremely close with my family and can't wait to meet you and yours at your next visit!

Makenzi
Smile Journey Guide (Treatment Coordinator)
I am so thankful & EXCITED to be a part of the Mack and Hansen Orthodontics team!
I have worked in the orthodontics field for almost 5 years now! I enjoy getting to be a part of each patient's journey to a beautiful smile. It is truly one of the most rewarding jobs to be able to play a part in such a life changing process for each and every person we get the privilege of treating. I will be the one who helps introduce you to our practice during your initial visit and who tells you about our wonderful doctors and team.

I was born and raised in Longview, after graduating high school from Hallsville (Go Bobcats!), I went straight into Dental Assisting School! When I'm not at our wonderful office I enjoy spending time with my husband, Alex, and our 2 dogs, Addie & Bella! We just recently built our forever home and enjoy spending time on our back porch with friends and family creating memories to last a lifetime! We look forward to being more involved in our community for years to come!
Emily
Director of First Impressions (Scheduling Coordinator)
I'm so thankful and blessed to be a part of the MHO family. I started my dental career working at a general dental office and have transitioned to working in orthodontics.
I moved form Florida in 2012 and graduated from Hallsville High School. Shortly after graduating I went on to pursue my dream of working with teeth. My free time is mostly spent on the putt putt course with my boyfriend, Blair, as well as spending my time hanging out with my family and friends. I'm so excited to be a part of making your smile extraordinary!!

Erika
Smile Engineering Team (Orthodontic Assistant)
My job consists of patient care and chairside assistance, both of which I share a passion and dedication for. With my almost five years of experience in this field, I have learned so much from all the different aspects of dentistry, including general dentistry, implants, periodontics, and orthodontics. There's nothing better than teeth! The best part of working in orthodontics is seeing our patients' satisfied, excited faces when they leave the office with a new smile!
I was born and raised in Longview (LOBO FOR LIFE!). When I'm not working, I love to spend time with family and friends, as well as take pictures and put my cosmetology skills to use with makeup and hair. I love to travel and shop, but then again, what girl doesn't?
Celene
Smile Engineering Team (Orthodontic Assistant)
I could not be more excited to be apart of the Mack & Hansen Orthodontics team.
Bringing with me 3 years of dental experience, with orthodontics included in that! You will see me when you come in for regular adjustments.
When I am not at work you will likely see me at the gym or spending time with my family and friends! A few of my favorite things are Red Bulls (they give me wings), any kind of hot sauce, traveling to any beach at anytime of the year and of course a girl can never have too many shoes! I have always had a love for orthodontics and cannot wait to be apart of your journey!

Katelyn
Smile Engineering Team (Orthodontic Assistant)
I am so excited to be apart of the MHO family! I started my orthodontic career right after graduation from Tyler Dental Assistant School, I actually was blessed to shadow here while I was in school and got hired on shortly afterwards. Being able to watch our patients flourish while in treatment and become more confident in themselves is on thing that brings me great joy.
Outside of the our awesome office I enjoy eating while enjoying the company of my family and friends! We attend East Mountain Baptist Church where I work in their nursery and enjoy worshiping with close friends who have become family. I also enjoy watching movies, fishing as much as I can with my boyfriend of 2 years Coleson. I look forward to meeting you at your next appointment!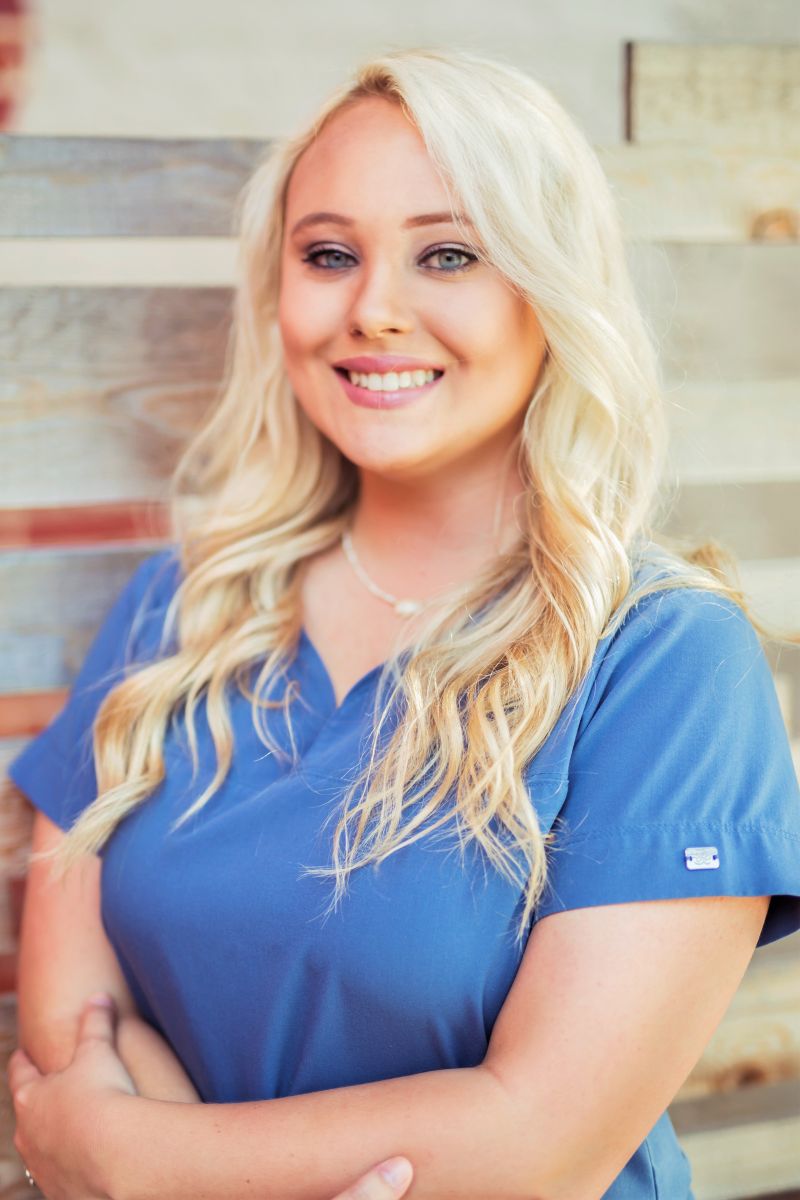 Haylee
Smile Engineering Team (Orthodontic Assistant)
I was born and raised in Longview Texas and graduated from Longview High School. A couple of years after graduating and going to college I decided I wanted to pursue my dental assisting career. In my free time I love being outdoors and spending time making memories with the best friends and family a girl could ask for. I am blessed to be part of the Mack and Hansen Orthodontics team.