the family orthodontist of east texas
Although we are located in Longview, we don't just serve patients from Longview. We also serve patients from Marshall, Kilgore, Gilmer, Carthage and as far away as Tyler, Mount Pleasant, and Shreveport.
As East Texas's family orthodontic team, we offer metal, clear, and even gold braces and Invisalign® to children, teens, and adults of all ages. In fact, about a third of all our patients are adults!
As you prepare to make decisions about orthodontic treatment, we want you to be informed about the facts and know how the process with us works here at Mack & Hansen Orthodontics.
When should my child first see an orthodontist? Is it ever too early?
The American Association of Orthodontists recommends that every child should get an orthodontic screening at age SEVEN. Many orthodontic problems are easier to correct if detected early, rather than waiting until jaw growth has slowed down or stopped. Click here to learn about our FREE observation program for children 7 and up!
Early treatment may mean a patient can avoid surgery or other serious corrections later in life. Even if no treatment is needed, it's always great for Dr. Mack and Dr. Hansen to have a baseline of records so they can monitor the progression of your son or daughter's dental and jaw development, and time any future treatment when it will be the most comfortable and efficient.
Your First Visit is On Us!
Your initial consultation is always FREE at Mack & Hansen Orthodontics. We want you to have the opportunity to experience our office, meet our team, learn more about orthodontics, receive an initial exam, and find out which treatment options will best meet your needs risk-free.
During your initial smile consult, Dr. Mack, Dr. Hansen, and our team will:
Review your dental and medical history forms
Perform an oral exam, with X-rays, to determine whether treatment is necessary
Create a customized treatment plan that fits your individual schedule, lifestyle, and treatment goals
Discuss all financial information, insurance options, and our affordable payment plan options that we have
We are more than happy to answer any questions you may have, and we will provide all the information you need to determine which treatment is right for you. If you would like to schedule your complimentary consultation, please click here
.
How Much Do Braces Cost?
Click here to learn about the affordable treatment options we offer here at Mack & Hansen Orthodontics.
What Happens After Your First Visit?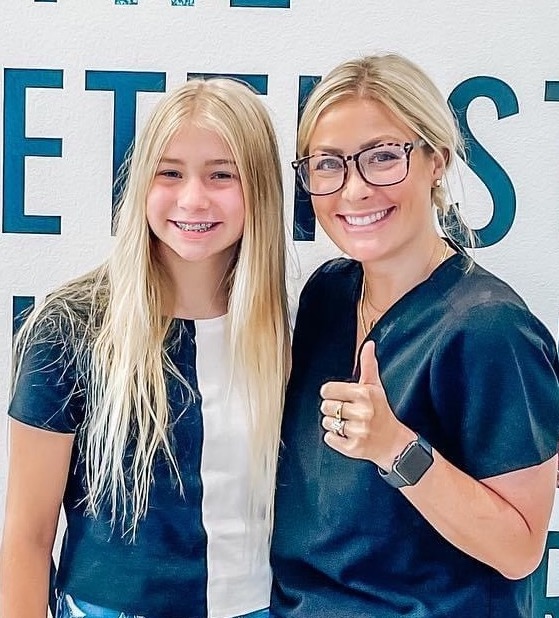 If you are ready to start treatment, we can get your braces on the SAME DAY you come in for your consult. If your schedule does not allow for that, we will schedule you to get your braces or clear aligners (Invisalign) as soon as it is convenient for you. The process of getting the braces generally takes less than an hour, and during this time our team will be available to make sure you are as comfortable as possible.
How often do I have to come in for visits?
Visiting our office about every six to eight weeks is an essential part of your braces treatment. If you are doing Invisalign with us, your visits are typically on longer intervals than our braces patients. We see Invisalign patients about every three to four months. Either way, we will work with you to make sure your appointments are as convenient as possible for you.
Don't Forget to Visit Your Dentist!
It is crucial that you continue to see your family dentist at least every six months, whether that is in Longview, Gilmer, Marshall, or Kilgore, or even as far as Mount Pleasant, Carthage, or Henderson. Teeth cleanings and routine dental checkups help ensure your orthodontic treatment proceeds without any setbacks.
If extra dental care is needed, we will be happy to coordinate with your family dentist to make sure you receive the best possible care. Need a dentist? We can refer you to one near you!