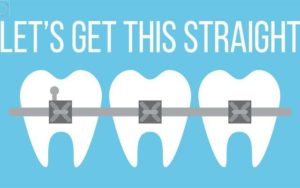 If you have had braces before, chances are you've been told by your orthodontist to wear rubber bands. A lot of times patients are unaware of the reasons why it is important to wear rubber bands during their orthodontic treatment, so we are going to help break it down for you.
There are a number of different reasons why your orthodontist will tell you to wear rubber bands, but almost always it is because the rubber bands will help coordinate your bite while you are undergoing orthodontic treatment.
Whenever an orthodontist (Dr. Mack and Dr. Hansen) make space for a blocked out tooth, the teeth on the arch where that tooth is blocked out have to be moved. During the process of sifting those teeth around and making space, the bite changes, and not always for the better. As a result of opening space for a tooth, such as a blocked out canine or lateral incisor, the front teeth will have a tendency to stick out more. As such, ones overjet (or what some people call an overbite) gets bigger. Rubber bands in this situation help decrease that overjet and coordinate the bite after space is made.
Another time your orthodontist will tell you to wear rubber bands is if you have what is called an open bite. An open bite is when your front teeth do not overlap when you are biting down all the way. This type of bite makes it rather challenging to rip into foods such as biting into a sandwich, or an apple, or a piece of pizza for that matter. When the front teeth do not overlap, the orthodontist will work on correcting the position and relationship of those teeth so they do overlap.
As the orthodontist, Dr. Mack and Dr. Hansen are able to put bends in the orthodontic wires to help move the top and bottom front teeth closer together. However, placing these bends in the wires only works so well. In order to help move the teeth in the intended direction, rubber bands can be worn from the front top teeth to the front bottom teeth to help close that "open bite". When Dr. Mack and Dr. Hansen ask you to wear these types of rubber bands, chances are they will tell you to wear them at home and at night time only. The reasoning for this is because wearing rubber bands in the front of your mouth makes it rather difficult to talk during the day while at school or work.
Even if your teeth are all straight but you have an overjet/overbite or an underbite, your orthodontist will have you wear rubber bands to help address those malocclusions as well. The idea behind the rubber bands here is to move the entire set of teeth in each jaw to a better position to correct your bite.
While these are just a few of the reasons Dr. Mack and Dr. Hansen will have yo wear rubber bands while in braces, there are many other ones as well. If you are unsure how to wear your rubber bands on your braces or how often to wear them, please do not hesitate to ask Dr. Mack or Dr. Hansen at your next visit in our Longview office. Have a wonderful week!
If you have any additional questions about Mack and Hansen Orthodontics or want to discover how Dr. Spencer Mack and Dr. Andrew Hansen can help you gain straighter teeth and a healthier smile with braces or Invisalign please contact us today! You can also visit www.etxortho.com to learn more about our orthodontists or dental braces,. We're conveniently located in Longview, TX right by Longview Regional Hospital and are just a quick drive from Marshall, Carthage, Henderson, Kilgore, Gilmer, and Mount Pleasant.