How does invisalign work?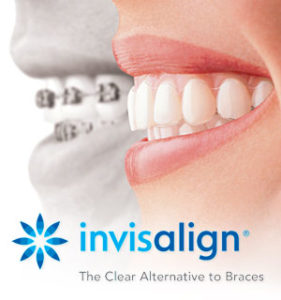 Today's post is on one of the more esthetic options in orthodontic treatment, invisalign. If you have been wondering how invisalign works we are here to help clear some things up. As orthodontists, Dr. Mack and Dr. Hansen make teeth move using different tools. One of the most commonly used tools is braces (brackets and wires). Invisalign is also one of those tools they use to move teeth. How the process works here at Mack and Hansen Orthodontics is pretty simple. It starts with a FREE consultation where we get some diagnostic x-rays and photos, and then Dr. Mack or Dr. Hansen take a look at your teeth and bite and visit with you about what your concerns are.
Since Dr. Mack and Dr. Hansen are comfortable treating even the most complex cases with invisalign, if you feel invisalign is a good fit for you and fits your lifestyle then we can get you started that same day. To start, we simply scan your teeth with our intraoral digital scanner. We use the digital scanner instead of taking gooey impressions to not only make your experience better, but it also allows us to have a more accurate record of your teeth and therefore better fitting trays.
After your scan, Dr. Mack and Dr. Hansen plan each and every tooth movement from the start of your treatment to the end to give you the most effective, efficient, and beautiful result. When you return to our office after your scan we provide you with trays and place any attachments on your teeth. Attachments are little tooth-colored bumps of glue that help the invisalign trays transmit the appropriate force to your teeth so they can move how they are supposed to.
We also include a bleaching kit with each invisalign treatment, so you and whiten your smile while we are straightening your teeth and aligning your bite. And to answer the Trivia Tuesday question: Yes – we can correct overbite and underbite with invisalign using rubber bands.
You typically wear your invisalign trays for 7 to 10 days at a time, and we see you for visits every 8-12 weeks.  Once we finish going through your first set of trays, we evaluate where your smile and bite are at, and if we need any more trays to get things just the way want, then scan to get you some extra trays.
After you finish your treatment, you still need to wear retainers just like after any other form of orthodontic treatment.
Please let us know if you have any questions about Vivera retainers. If you are looking for a Longview orthodontist and would like to learn how Dr. Spencer Mack and Dr. Andrew Hansen can help you get the smile you have always wanted with metal braces, clear braces, or invisalign please contact us. Our free consultation will allow you to discover what our orthodontists can do for you. We're conveniently located in Longview, TX next to Longview Regional Hospital and are just a quick drive from Kilgore, Marshall, Gilmer, Henderson, Mount Pleasant and Carthage Texas.