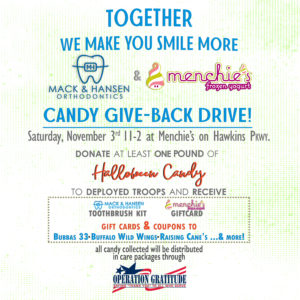 Each year, Operation Gratitude sends hundreds of thousands of care packages to those who serve our country. Since 2003, Operation Gratitude has sent over 2,000,000 care packages to Troops, First Responders, Veterans, and their families.  Each of those care packages include a handful of candy, the majority of which comes from donations made by groups and drives such as this held in October and November where children donate their Halloween candy as a way of showing gratitude to those who serve.
This year, we are offering an extra incentive to children to give back their candy. The first 500 children who bring in and donate over a pound of Halloween candy to our Give-Back Drive will receive a Mack and Hansen Orthodontics toothbrush kit filled with gift cards and coupons to local restaurants including Menchie's, Bubba's 33, Raising Cane's, Buffalo Wild Wings, Slim Chickens and more!
All of the candy collected will then be sent off to Operation Gratitude's packaging center where the care packages are put together and shipped all over the world.
This year's event will take place on Saturday, November 3rd from 11 am to 2 pm in the parking lot at Menchie's at Hawkins Pkwy Center. There will be fun and games for the whole family so be sure to come out, bring your candy, and have some fun while giving back to those who serve our country!
If you are interested in scheduling a FREE Consultation for braces or invisalign with Dr. Spencer Mack or Dr. Andrew Hansen you can do so here. We are your in-network orthodontic provider and treat children, teenagers, and adults of all ages, offer low down payments and affordable payment plans. Come see why we give East Texas a reason to smile!