Invisalign in Longview TX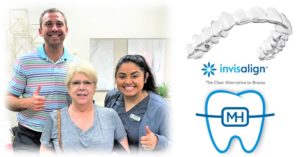 Are you interested in orthodontic treatment but don't want to go with traditional braces? Here at Mack and Hansen Orthodontics we love when our patients opt for Invisalign clear aligners as their treatment option. Invisalign offers a number of benefits to patients, most notably the convenience of being able to take their trays in and out when they choose, such as for social gatherings, parties, and of course to brush and floss their teeth.
For our patients we actually do not take molds/impressions of your teeth. Instead, we use our digital scanner to scan your teeth and bite. This gives us trays that fit more comfortably and accurately than when you have molds taken.
Dr. Mack and Dr. Hansen were trained in residencies placing a strong emphasis on this new and improved orthodontic treatment. Having recieved training from orthodontists in the top 1% of Invisalign providers worldwide, Dr. Mack and Dr. Hansen are comfortable treating even the most complex and difficult cases effectively and efficiently using Invisalign clear aligners.
Typically, orthodontic treatment with invisalign lasts between 9 and 15 months, depending on the complexity of the case. However, there are cases that take longer and some that are shorter, again it all just depends on what needs to be done to your teeth. Our orthodontic consultations are free of charge and we use those to determine what your specific treatment needs are.
Another nice thing about invisalign is that you can bleach your teeth with the trays in your mouth, giving you the opportunity to whiten your smile at the same time you are straightening your teeth. We now include a bleaching kit with all of our invisalign treatment options!
Please let us know if you have any questions about invisalign clear aligners. Our free consultation will allow you to discover what our orthodontists can do for you. We're conveniently located in Longview, TX next to Longview Regional Hospital and are just a quick drive from Kilgore, Marshall, and Gilmer Texas