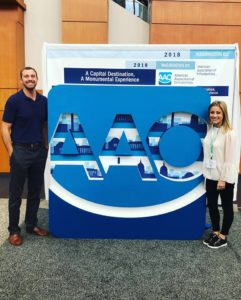 Dr. Mack and Dr. Hansen spent this past weekend at the American Association of Orthodontists Annual Session in Washington D.C. This is a meeting and continuing education conference that is held in a different location across the United States every year. Over 20,000 orthodontists and orthodontic team members from all over the world travel to this meeting, which is the largest orthodontic meeting in the world.
At this meeting Dr. Mack and Dr. Hansen attended lectures on a number of different orthodontic topics including breathing and sleep disordered breathing in adults and children, palatal expansion, ways to accelerate orthodontic treatment, improved retainers, and new types of braces and clear aligners.
With all the different orthodontic companies present at this meeting as well, Dr. Mack and Dr. Hansen were able to learn more about all of the new clear aligners that companies are now offering as well as learn about the newest changes to invisalign clear aligners.
With so many orthodontists attending the meeting, Dr. Mack and Dr. Hansen were also able to visit with many of their colleagues from different parts of the country and discuss these new orthodontic trends and which ones are the best for patient care.
To see more photos and videos from the conference, be sure to visit our Facebook and Instagram page. Should you have any questions about the meeting itself, please let us know at your next visit. We hope you have a wonderful week!!
If you have any additional questions about Mack and Hansen Orthodontics or want to discover how Dr. Spencer Mack and Dr. Andrew Hansen can help you gain straighter teeth and a healthier smile with braces or Invisalign please contact us today! You can also visit www.etxortho.com to learn more about our affordable braces and invisalign clear aligners. We're conveniently located in Longview, TX right by Longview Regional Hospital and are just a quick drive from Marshall, Carthage, Henderson, Mount Pleasant, and Gilmer.