If you are in search of an affordable orthodontist in Gilmer Tx, then look no further! Mack and Hansen Orthodontics serves patients from all over East Texas. In fact, we have many orthodontic patients in both braces and invisalign who come to us from Gilmer or even Pittsburgh, Winnsboro, and Mount Pleasant Texas. We are open Monday through Friday in Longview which is just a short drive away.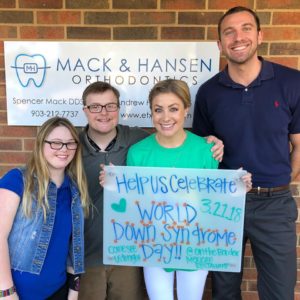 If you are needing directions to get to Mack and Hansen Orthodotics from Gilmer TX, Pittsburg TX, or even Mount Pleasant Texas, begin by heading south on by taking US-271 S and TX-300 down to Longview.
If you are coming to the orthodontist from Gilmer TX then head east on TX-154 E/E Marshall St toward S Roberts St. Then turn right on to FM 1650, which you will be on for about 9 miles. After this you will turn right onto US-259 South which you will take for 7 miles. You will next turn right onto Fourth St, then right on Medical Circle.
If you are coming to to us from Pittsburg TX, you will also take US-271 S and TX-300 down to Longview and follow similar directions as if you were coming from Gilmer TX.
If you are interested in coming in for a free orthodontic evaluation and consultation, we would love to see you. At your first visit, we will take a series of dental photographs and diagnostic x-rays. Then our orthodontists, Dr. Mack or Dr. Hansen, will do an oral exam to see what exactly is going on with your teeth, jaws, and your bite. After the oral/dental exam, Dr. Mack or Dr. Hansen will sit down with you and go over what exactly your orthodontic treatment needs are, discuss the difference in options between metal braces, clear braces, gold braces, and invisalign, and how we can go about taking care of you and your concerns.
If you have any additional questions about Mack and Hansen Orthodontics or want to discover how Dr. Spencer Mack and Dr. Andrew Hansen can help you gain straighter teeth and a healthier smile with braces or Invisalign please contact us today! You can also visit www.etxortho.com to learn more about our affordable braces and invisalign clear aligners. We're conveniently located in Longview, TX right by Longview Regional Hospital and are just a quick drive from Marshall, Carthage, Henderson, Mount Pleasant, and Gilmer.