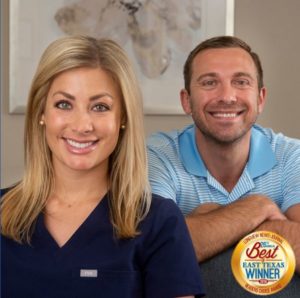 Every year the Longview News Journal runs their Best of East Texas Reader's Choice Award Program. Readers from not just Longview but all over East Texas including Marshall, Kilgore, Gilmer, Carthage, and Henderson are able to vote through their online voting!
We are honored to have been voted by readers as the Best Orthodontist in East Texas! We can't say thank you enough and from the bottom of our hearts, we are truly appreciative and grateful for all of your love and support! We promise to continue doing our absolute very best to serve our patients and our community.
If know of any events or fundraisers taking place in our community that help raise awareness or resources for local organizations that are having a positive impact in our Longview and East Texas communities, we would love to participate. Please let us know of any way we can serve. Thank you so much again for all of your support!!
We would be happy to help answer any questions you may have about orthodontic treatment. If you would like to discover how Dr. Spencer Mack and Dr. Andrew Hansen can help you get the smile you have always wanted with metal braces, clear braces, or invisalign please contact us and request a free consultation to learn more about our affordable braces and invisalign clear aligners. We're conveniently located in Longview, TX right by Longview Regional Hospital and are just a quick drive from Kilgore, Marshall, Carthage, Henderson, Mount Pleasant, and Gilmer.