We absolutely LOVE our patients here at Mack and Hansen Orthodontics. We appreciate each and every one of them and are so grateful for the reviews they leave us. Here are some of our recent reviews from Facebook and Google: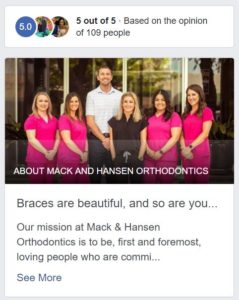 "I can not think of one negative thing to say about Mack and Hansen Orthodontics. From the minute I called them I knew this was the right choice to get my daughter's braces done. They were quick and professional at all times. Kind and caring when it was needed and always polite. My daughter even got a welcome bag and a pop socket! We are so glad we chose Mack and Hansen!" – Julia G.
"So friendly, warm and welcoming. They had my very nervous daughter laughing and relaxed as soon as she walked through the door. As a parent they had everything broke down and easy for me to understand. The staff is very knowledgeable and kept me informed every step of the way from consultation to completion. Highly recommend!" – Carrie D.
"When your 15 year old son walks out of every single appointment smiling and laughing because his smile is improving but he's also having fun with the Mack and Hansen crew, I'd say that's a huge WIN! Thanks for loving what y'all do , and providing exceptional care !" – Meredith S.
"I was referred by my dentist to see an orthodontist about some minor corrections. I found Mack and Hansen on FB and loved that they offered later appointments which made it easy to schedule a day and time to come in for my free consultation. Went in for the consultation and everyone was so welcoming and warm! It did not feel like we conducted business at all, it was easy to talk to them and they made sure I understood what I wanted. I was scheduled to get my braces on two days later and it went fast and easy and we had fun in the process! I will ALWAYS recommend Mack and Hansen in the Future to anyone I talk with wanting to know more about an orthodontist. This team is absolutely fabulous!" – Andrea R.
"Dr . Mack and Dr. Hansen, and staff are they most kind office we have been to. We have been pt's for over 6 months, and every visit we are all welcomed with open arms. They know all my kids by name, they let the kids know how interested they are in them. Can not say enough good this about this amazing office!" – Leslie N.
"This is the nicest dental office that I have been to. Very professional and they made my daughter feel so comfortable. I really appreciate the experience." – Yolanda M.
"I'm a patient at Mack & Hansen Orthodontics and in my opinion they are the best in East Texas. Friendly staff and excellent care! If you are in need of orthodontic care, this is the place to go. I highly recommend Mack & Hansen Orthodontics to anyone needing orthodontic care!" Zeek V.
"So excited to start my invisalign journey!! the staff and doctors are so kind, welcoming, and make you feel so comfortable in their office. thank you, Mack & Hansen Orthodontics!!!" – Kaitlyn H.
"The doctors and staff were so friendly and caring. They made my daughter's experience getting braces so fun and relaxing. The office is so relaxing, comfortable, just great. Thanks so much!" – Yuvonda B.
"I'm still pretty new into my Invisalign journey but I can not say enough good things about this office and these people!" – Erica A.
"I am so glad I went with my gut to give y'all a try! Abel and me loved y'all! Super amazing and very informative with everything that was happening. Thanks for taking care of my baby boy!" – Krystal A.
"I LOVE being apart of the Mack & Hansen Orthodontics Family! They provide complimentary consultations & have the best team around. I met with Dr. Spencer during my consultation, she answered all of my questions in depth & she made me feel so comfortable about the process of getting braces. She wasn't pushy about starting the treatment either, she let me explore all of my options before hand. Given that I'm a college student and work part time. I saw Dr. Andrew for the procedure which took about 25 minutes total, with NO needles (I'm scared of needles ha). He made sure I was doing okay during the process and kept me very involved in what he was doing! I most definitely recommend Mack & Hansen Orthodontics, they treat you like family! " – Madi G.
"Made my daughter feel very comfortable throughout the whole process." – Kelly M.
We would be happy to help answer any questions you may have about orthodontic treatment. If you are looking for a longview orthodontist and would like to discover how Dr. Spencer Mack and Dr. Andrew Hansen can help you get the smile you have always wanted with metal braces, clear braces, or invisalign please contact us and request a free consultation to learn more. We're conveniently located in Longview, TX right by Longview Regional Hospital and are just a quick drive from Kilgore, Marshall, Carthage, Henderson, Mount Pleasant, and Gilmer.