Fun Times at the Orthodontist in Longview Texas
It's only been a few months since Laney started her braces smile transformation and she already wants to be an orthodontist ?. We are here to support you in any way we can Laney!! ??? Thanks for being so awesome ?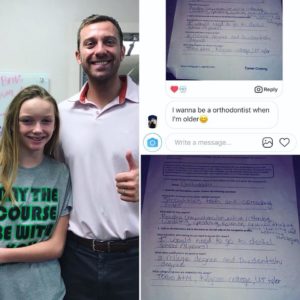 You have to look ?? really close to see Jaydin's Clear Braces she got yesterday ?. Congratulations Jaydin and welcome to the MH Ortho Family!! ???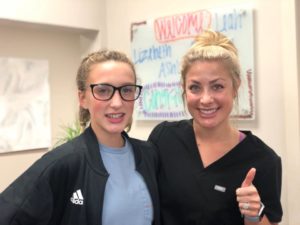 We just wanted to give a big shout out and congratulations to one of our awesome patients and Kiki dancers, Bryce, for being recognized as Panther of the Month by Spring Hill ISD!! We are so proud of you and are grateful to have you as part of not only our MH Ortho family but also our community ?#heevenwearshisrubberbandstoo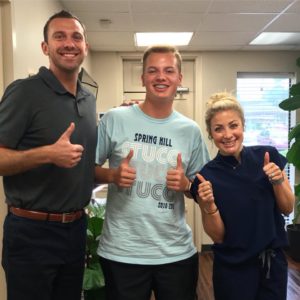 More Trivia Tuesday Questions from your neighborhood Orthodontist
Happy Trivia Tuesday ??? !! Here are this week's questions?. Let us know your thoughts!!
1️⃣ Does a palatal expander have the potential to help a child with breathing or snoring issues? Yes or No
2️⃣ What should you do if you get a tooth knocked out of the mouth? Put in a glass of water? Put it in a glass of milk?
3️⃣ Do braces attract lighting? ⚡️⚡️
It's that time of the week again ???? #triviatuesday
1️⃣ Is it ok to bleach your teeth while you have #braces, or should you wait until you get them off?
2️⃣ True or False: Braces will set off a metal detector
3️⃣ What are the shapes of the wires orthodontists use with braces?
Round, square, and rectangular?
Round, square, and triangular?
And a Trivia Tuesday Answer Explained:
One of our #triviatuesday questions from last week came to us because a patient of ours had an adult tooth knocked out while riding bikes. Fortunately their parents did the right thing and placed the tooth back in the mouth within 30 minutes ??. Doing this significantly improves the chances of saving the tooth.
If this ever happens to you, pick the adult tooth up by the crown ? (not the root) and wash it briefly under cold water (do not wipe it off), and place it back in its socket in the mouth. Bite on a cloth or napkin to help keep it in place, and see your dentist as soon as possible.
If you are unable to put the tooth back in the mouth right away, place the tooth in a glass of #milk and head to an emergency clinic or dental office so a dentist can place it back in the mouth. They may also place a splint or wire to help hold the tooth in a passive position. The prognosis is always guarded with a tooth that is knocked out, but the sooner you can get it back in the mouth, the better ??#spreadtheword #saveatooth #nowyouknow #dentaltrauma
Please let us know if you have any questions about orthodontic treatment. If you are looking for a Longview orthodontist and would like to learn how Dr. Spencer Mack and Dr. Andrew Hansen can help you get the smile you have always wanted with metal braces, clear braces, or invisalign please contact us. Our free consultation will allow you to discover what our orthodontists can do for you. We're conveniently located in Longview, TX next to Longview Regional Hospital and are just a quick drive from Kilgore, Marshall, Gilmer, Henderson, Mount Pleasant and Carthage Texas.